Brand funnels are a cornerstone of effective business strategy and a key part of an overall business health checkup. There are multiple layers to examine and doing so can reveal underlying challenges and opportunities for a brand that is trying to convert their target customers. This is a top line overview of how you can analyse your brand's health with a brand funnel.
Read more: What are the brand tracking KPIs for a brand manager to monitor?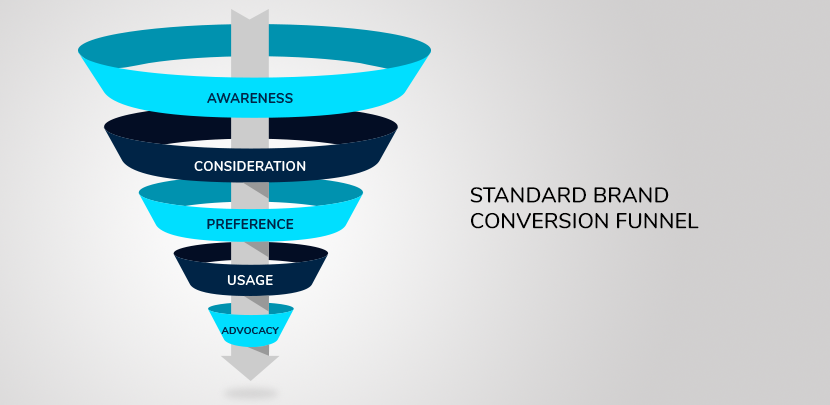 What is a brand funnel?
There are many variations of brand funnels with different layers to represent the stages of a customer's journey with a brand. However, they are all designed to act as a customer-centric framework that helps brands understand a) how far their target customers are in their journey with the brand and b) how to guide them through to brand advocacy.
At Perceptive, we use a standard brand conversion funnel to inform customer research methods, made up of five distinct layers:
Awareness: the proportion of the audience that know of the brand.
Consideration: the proportion of the audience that would consider using / making a purchase from the brand.
Preference: the proportion of the audience that would prefer to use the brand over competitors.
Usage: the customers that are currently using the product or service offered by the brand and the frequency at which they are using them.
Advocacy: the customers that would recommend this brand to friends, family and colleagues.
Understanding the composition of each of these layers provides businesses with insight into where and how they are performing, informing future business decisions and focuses.
For example, should there be high levels of awareness but low level of consideration, it may be prudent to put more marketing efforts towards educational messaging to aid conversion.
Measuring these stages also allows a business to benchmark performance over time and against competitors.
Read more: How to track, measure and improve your brand health
---
Analysing your brand funnel
Understanding the standalone levels of each layer is useful, but the most interesting insights are gleaned from the conversion rates between each stage.
Here are some common examples of reasons why there might be a low conversion rate at the different stages of the funnel:
Awareness to Consideration.

Reaching the wrong audience.
Using the wrong messaging for the target audience.

Consideration to Preference.

Not enough differentiation from competing providers.
Not meeting the emotional or functional needs of the target audience.

Preference to Usage.

Not enough perceived value.

Usage to Advocacy.

Poor customer experience.
Measurement and analysis of a brand's conversion funnel offers a business a set of valuable insights into how, where and to what extent their brand is affecting their audience—where it is overperforming and, perhaps more importantly, where it is underperforming.
---
To find out more about the power that your brand can have for your business, check out our complete guide to brand health.