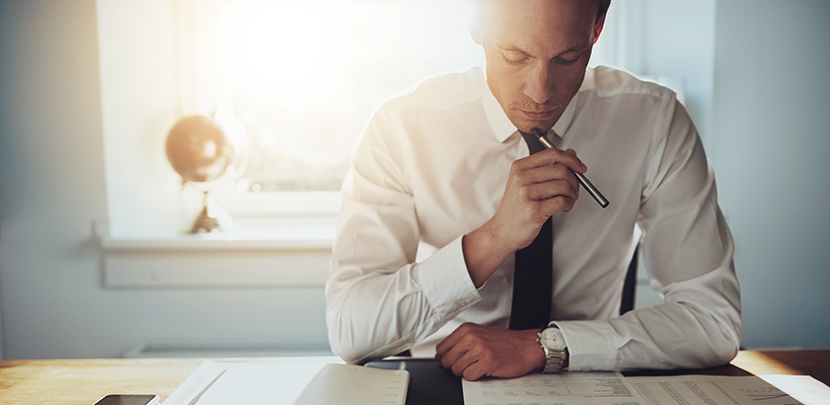 More and more successful companies are turning to Net Promoter Score℠ (NPS) as an important business metric. It is not the only measure you need, but it provides a powerful lens into what customers think of your business.
NPS can reveal where businesses have gone wrong, how they can improve and, ultimately, how to better attract and retain customers. If you want to improve customer retention, here are five key things business owners need to know about NPS:
1. How to get a Net Promoter Score
NPS is, at its heart, a measure of customer loyalty. It's primarily based on a single question: "How likely is it that you'll recommend this product to a friend or colleague?".
The response is express as a score between 0 (very unlikely) up to 10 (extremely likely).
These responses are then grouped into promoters, passive or neutrals, and detractors. The first being your biggest fans, and the last being those who are yet to be impressed by your service.
How to calculate your Net Promoter Score
To get your NPS, subtract the number of detractors from the number of promoters.
For example, if 50 per cent of your customers are promoters and 20 per cent are detractors, your business will have an NPS of +30. This mean there are 30 per cent more promoters than detractors.
A NPS of -30 means you have 30 per cent more detractors than promoters. NPS scores can range anywhere between +100 and -100 with most world-class companies scoring between +50 and +70.
Read more about calculating NPS and common calculation mistakes here.
Learn more about NPS industry benchmarks in Australia and New Zealand.
2. It helps measure your future growth
The real advantage of NPS is that it makes companies think about their customers' experience.
Many CEOs believe that revenue and profit are the ultimate metrics in business. This is not the case. Both are lagging indicators, meaning you can't do anything about last quarter's numbers. They are not necessarily a good indicator of future growth either—especially if you're burning through customers to get short term revenue.
NPS, on the other hand, measures customer experience and the likelihood of repeat business, meaning it's an effective way to measure future growth and revenue.
Studies have shown the strong correlation between customer experience and business growth. In one case study, British Gas, the UK's largest supplier of gas, took their NPS from +45 to +75 over two years, and saw a 75 per cent decline in customer complaints and 30 per cent surge in growth in that period.
The takeaway? Improve your NPS and you improve your profits—and make your customers happier and more loyal in the process.
3. Go beyond the score
NPS might be a good metric to track, but at the end of the day it's just a number. Your score will tell you if you have high or low customer loyalty, but not why. It's why savvy businesses will always include a few good questions in their surveys to delve deeper into why people scored the way they did.
Ask your customers questions about the value and quality of your products or services, plus a few key open-ended questions, such as "How could we improve?", to help pinpoint areas in your business that need more attention.
Good customer experience management software (like Customer Monitor) will drill even deeper. Many include key-driver and sentiment analysis to help you determine what themes are having the biggest influence on your NPS.
Often it's the small things that have the greatest impact on NPS. Speed in responding to customers, for instance, or the knowledge of sales staff. One of the most common complaints we see is a lack of contact between the business and its customers.
4. Don't ignore your detractors
Getting feedback from detractors is an opportunity to improve your business—and your NPS. Here at Customer Monitor, we always include open-ended questions in our NPS surveys that are aimed solely at detractors. We ask them to briefly explain why they gave a 0-6 response, and what key improvement they would need to see in order to provide a higher score in future.
Good customer experience and NPS software, like Customer Monitor, will automatically analyse detractor feedback and sort it into emerging themes and actionable insights. Some you'll be able to fix quickly, but sometimes more strategic themes emerge and these require a long-term approach to resolve.
5. The right NPS system is a boon to business
To really capitalise on the benefits of NPS, you need to have appropriate customer experience software that captures core information and helps businesses execute change.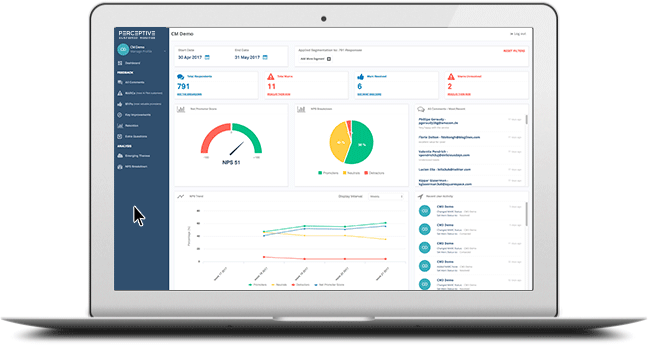 Image: A screen shot of Customer Monitor's dashboard.
With the right system, you can reduce customer churn, improve loyalty and word-of-mouth marketing—and reap greater profits as a result. Without it, you run the risk of losing out to competitors who are investing in this space.
If you want future proof your business and improve your customer retention, check out our free guide to customer retention strategies below: