The last few years have arguably seen more changes to the way we work than anything we've seen in the last 30. Moreover, with remote work fast becoming part of the norm, a renewed focus on employee experience and well-being, changing work structures, AI and automation, and an ageing workforce, our workplaces are not done changing yet.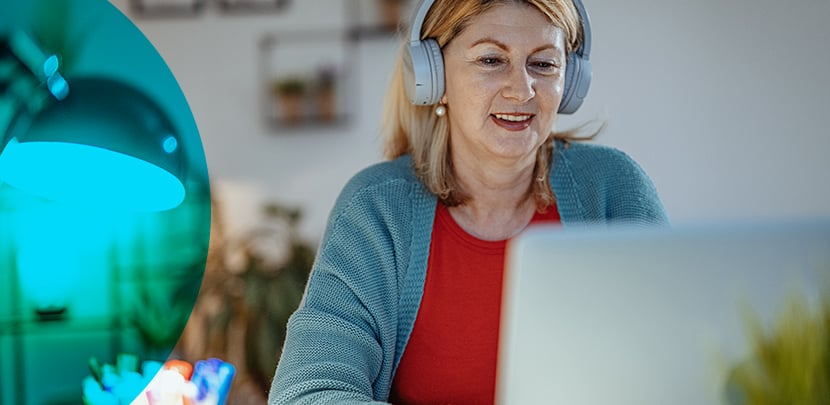 1. Work anywhere, anytime
With Covid-19 normalising remote and hybrid work, businesses are beginning to accept to this new way of working is here to stay. It's also good for employee work-life balance, productivity and well-being—as long as the right support and resources are in place both at home and from employers. We've also seen the standard 9-5 business day become more flexible to accommodate employees' lifestyles and commitments. With this change, we'll see more workspaces becoming smaller and decentralised as employees are only in the office for part of the week.
You can prepare your business for this change by:
Setting clear job expectations and goals.

Providing employees with a work from home stipend.

Scheduling regular online catch-ups with employees to prevent feelings of isolation.

Reminding staff that people are not obligated to reply to work emails and text during the hours they are not working.

Communicating regularly with your team(s).
Read more: How to manage a hybrid work environment effectively
2. Flatter work structures, job-hopping and talent
Flatter work structures are fast becoming the norm, which will see employees shift laterally to build their skills. Businesses may also see higher employee turnover as employees jump ship to progress their careers. Today, it's estimated that Gen Z's will have between 16-18 jobs in their lifetime. As a result, retaining top talent, particularly Millennials, will be difficult and businesses will need to work hard on their employee experience if they want to retain staff, which we'll explore in our next point.
Additionally, with only 14 per cent of business leaders satisfied with their organisation's ability to communicate and collaborate, expect greater emphasis on these two aspects in coming years.
You can prepare your business for this change by:
Mapping career paths with your employees and focusing on professional growth and development in the workplace.

Offering fair wages, flexibility, good work-life balance and an inclusive workplace.

Emphasising collaboration and connectivity among colleagues.
3. Employee experience focus
With talent becoming increasingly difficult to retain, employees will need to shift their focus onto employee experience (EX) if they hope to keep their best performing staff long-term. EX is set to transform business in the late 2020s and early 2030s in the same way digitising business processes, the internet, and digital customer experiences have in the last three consecutive decades. Moreover, with Covid forcing many workers to reassess their priorities, there's been a distinct shift towards prioritising wellness and lifestyle. In short, employees want to work to live, not live to work. With issues around liveable wages, fair pay and the wage gap, along with overwork, stress, and burnout making headlines around the world in the last few years, employers need to prioritise listening, reconnecting and engaging with staff to find a new balance.
You can prepare your business for this change by:
Being a good employer—pay fair wages, provide clear job descriptions and expectations, set goals, foster communication, inclusivity and innovation.

Emphasising professional growth and development among employees.

Building a digital workplace culture—not just a culture for in-office workers.
Free guide: The 10 Pillars Of Employee Experience
4. Automation and augmentation
The development of AI and robotics is predicted to arrive in the 2030s, bringing with it 97 million new jobs. While automation will see many tedious and repetitive tasks reassigned to AIs and robotics, the challenge for employers is to upskill staff whose jobs are fully or partially augmented by AI/automation to complete work that requires more advanced skills that AI can't perform.
You can prepare your business for this change by:
Cleaning up your data, assessing your infrastructure and updating if required.

Fostering curiosity and life-long learning in your workplace culture.

Identifying roles and areas of the business that AI will impact. Put a plan in place for upskilling staff in these roles.
5. Ageing workforce
In 2021, 6 per cent of New Zealand's workforce was over 65 years. According to Stats NZ, this share is projected to increase to 9 per cent in the 2030s and 11 per cent in the 2060s. Moreover with automation expected to affect as much as 46 per cent of Kiwi jobs by 2050, meaning that not only with the shape of the workforce change, but so will the type of work being done. With this in mind, businesses will need to put future-proofing strategies in place to ensure their older workers are not left behind.
You can prepare your business for this change by:
Offering upskilling and development to help older workers remain familiar with new processes and technologies.

Fostering a culture of continuous learning.

Offering flexible working arrangements.
Learn the 10 critical elements that attract and retain talent, build a positive workplace culture, and keep your employees engaged in our free guide: The 10 Pillars Of Employee Experience.