Transactional data is a powerful resource for exploring consumer behaviour. From customer cart size and visiting frequency to category-wide insights and market share. However, harnessing the insights of transactional data poses two problems:
Acquiring a large enough dataset to provide market-level intelligence.
Understanding, analysing and interpreting that data in an accurate and meaningful way.
Which is why Perceptive created Ada: a fully visualised, self-service tool to help businesses analyse and interpret Worldline's data—New Zealand's largest transactional data set.
And here are just a few brand questions it can answer.
Related content: Transform with transactional data [Free Guide]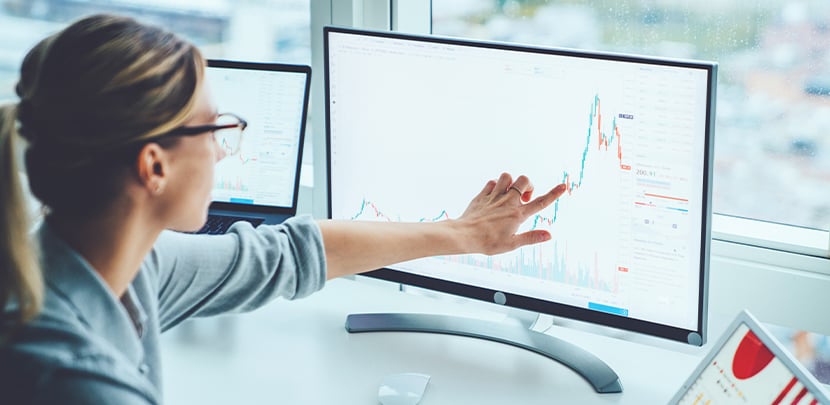 1. How does my brand measure up in my category?
Worldline captures over 1 billion transactions per year, providing a wealth of data and information of Kiwi spending habits. With detailed data across a variety on retail categories, including:
Apparel
Department stores
General retail
Food catering
Household goods
Service
Leisure
Fashion/jewellery/accessories.
With this, you can get a clear picture of your brand's revenue and transactions against the rest of your category.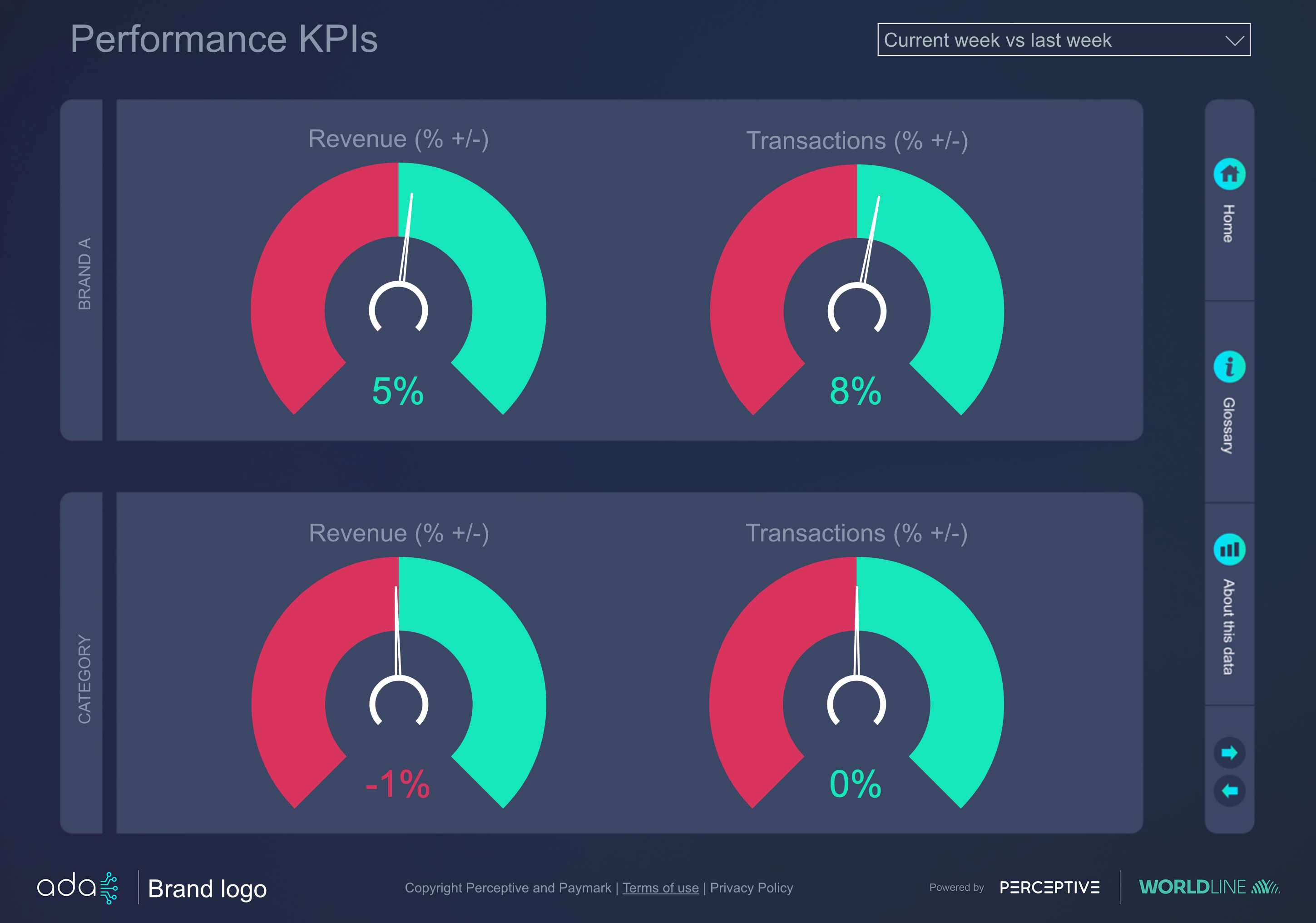 2. How is my brand performing over time?
Ada contains two years' worth of transactional data, and it is only set to grow with the product. Having trended data enables you to understand seasonality, marketing impact and impact of competition. With it, you can visualise trended data of your brand's performance within its category across multiple metrics (such as transactions, revenue and share) and time variants (such as week or month).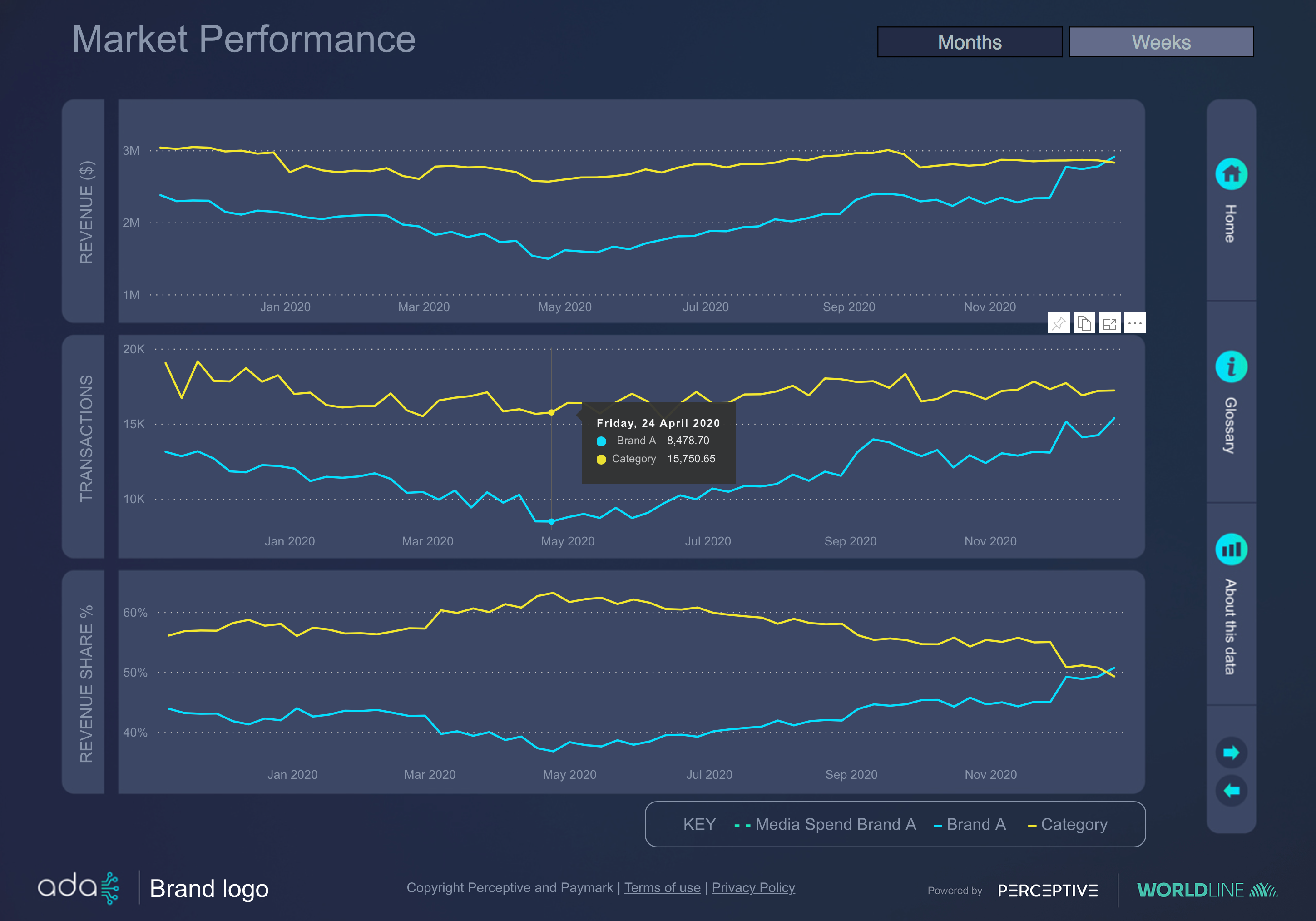 3. Where is my brand performing well?
Seeing nation-wide consumer transactions in your retail category can reveal regions and cities where your retail category performs well and where it doesn't. With this, you can optimise your strategy to address low performing areas or capitalise on the places where your category performs well.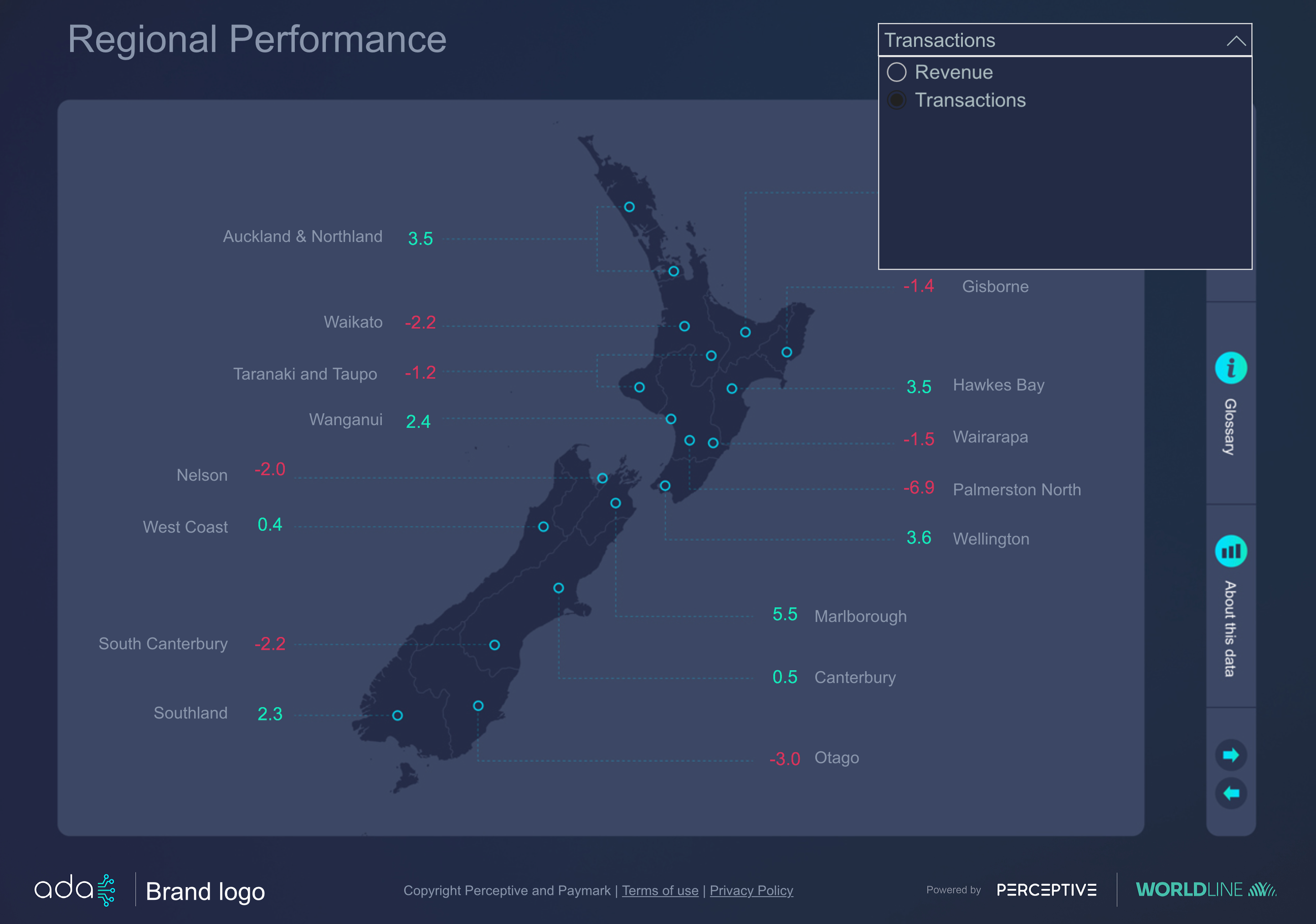 4. How much impact does my marketing have on sales?
Using Ada's market performance and acquisitions over time data you can see how sales in your category shift in response to your marketing and promotion efforts. Moreover, Ada is customisable and able to incorporate and correlate additional data sources such as sales, media spend, share of search and Net Promoter Score. These additional data sources can help reveal causal links between them and your customers' behaviour.
5. Is my brand attracting new customers?
Ada can analyse your customer acquisition performance, allowing you to understand what proportion of your sales and/or transactions are coming from new versus returning customers. With this, you can see shifts in revenue growth as customers move from being a new, existing and loyal customer.
This can help you tailor strategies for engaging customers in each of these phases and give you a read on repeat purchase behaviour. What's more, it can also help you understand whether your marketing efforts are really attracting in new customers or if they are just encouraging existing customers to stockpile and cannibalise future sales. These findings can then inform your marketing messaging to better speak to customers at different stages in their customer journey.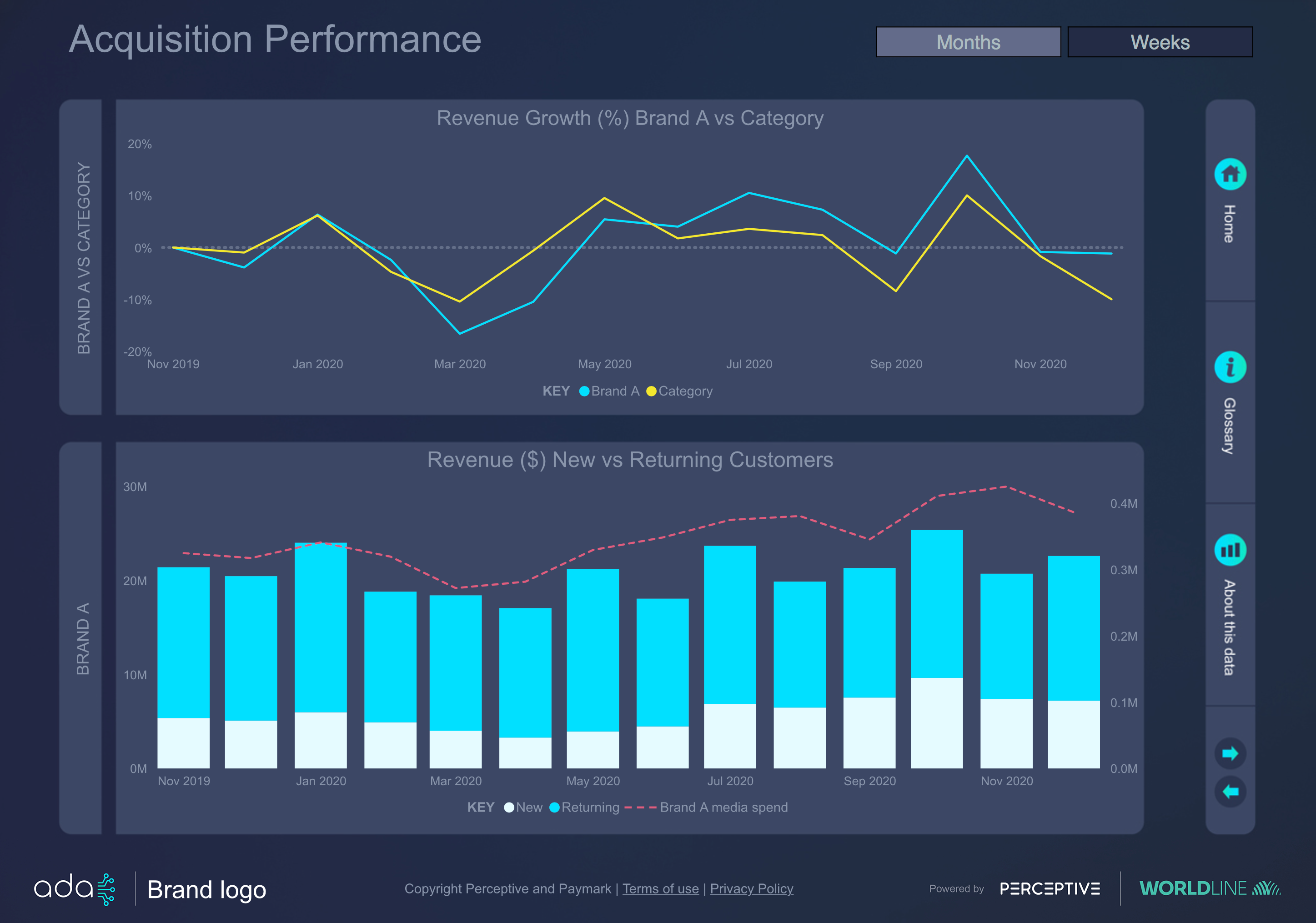 6. How can I optimise my media spend?
By incorporating sales and media spending data into Ada, you can see the influence of your marketing on your new acquisitions and current customers. Moreover, it can give insight into your customer journey and how customers engage with your brand at different points in that journey.
You can also leverage your regional performance insights to further to optimise your media spend, such as capitalising on high performing regions or specifically targeting underperforming areas to increase sales and acquisitions there.
What's more, thanks to the behavioural insights Ada can provide—such as how your customers are shopping and what other brands they interact with—you can also gain insights to better tailor your marketing messages and improve their cut through.

7. How are my customers shopping?
Uncover detailed insights about your customers shopping behaviour such as how much they spend per visit, which stores they visit, and how often they visit. With this, you can build out a complete picture of their customer journey, from when in the day they visit, to what other stores and categories they shop with before and after yours.
Understanding how, when and where your customers shop can help you tailor your offerings and communications to better engage with your customers and drive purchase behaviours.
Having an overview of your customers shopping habits can also help you identify customers who are at risk of churning as their visiting frequency and spending drop.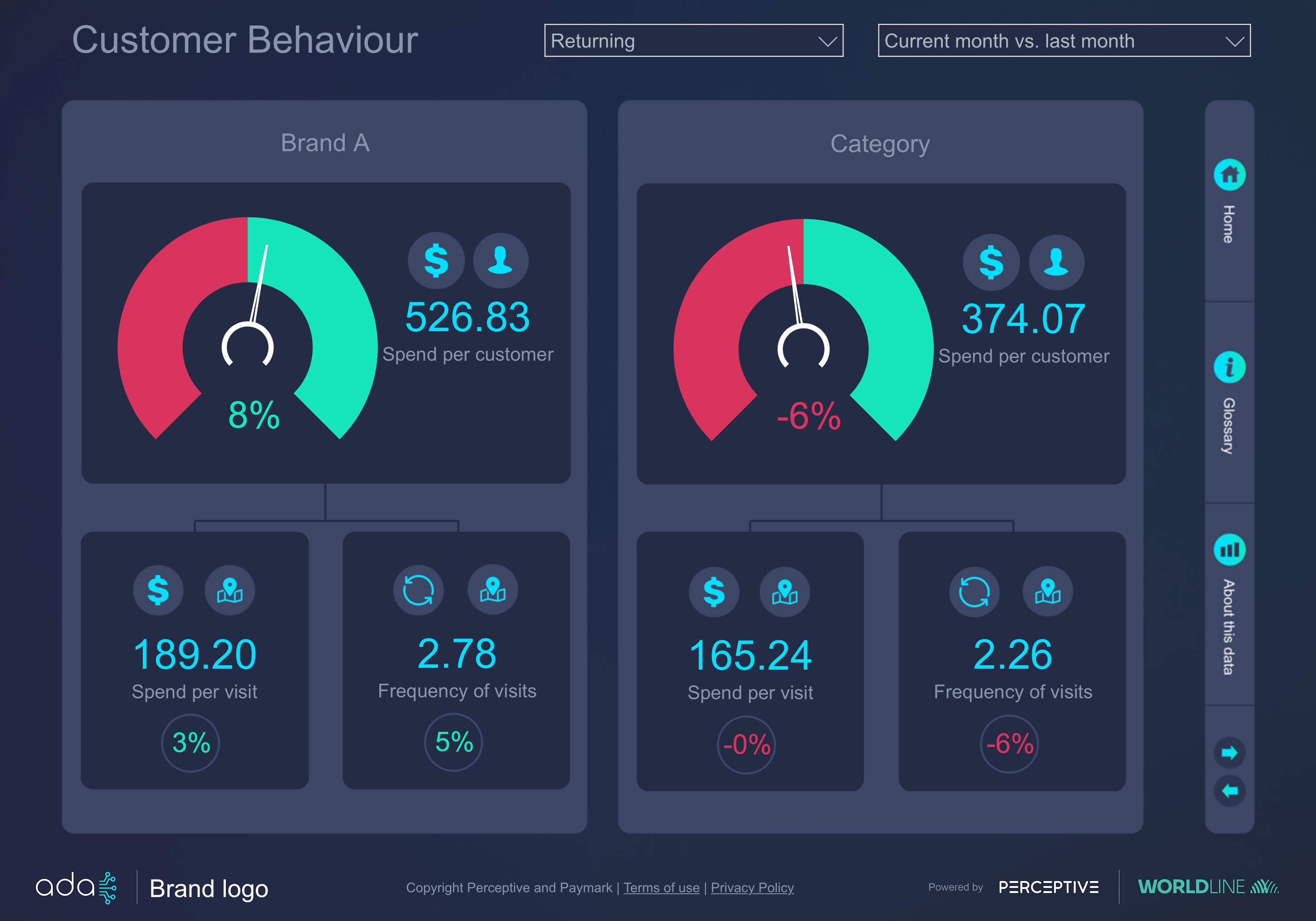 8. Where else are my customers shopping?
Understanding how your customers spend with your brand is step one. Step two is understanding how they shop across categories, from what other services they use and how that fits into their interaction with your brand and what other in-category competitors they purchase from.
Ada also allows you to see how much of your brand value comes from solo shoppers versus cross-category shoppers. This not only reveals how loyal people are to your brand but also allows you to see any large, untapped audiences that do not currently shop with you but do shop within your category.
These insights will not only build out a complete picture of your customers, but also provide valuable intelligence into their customer journeys as well as their mindset, values and needs.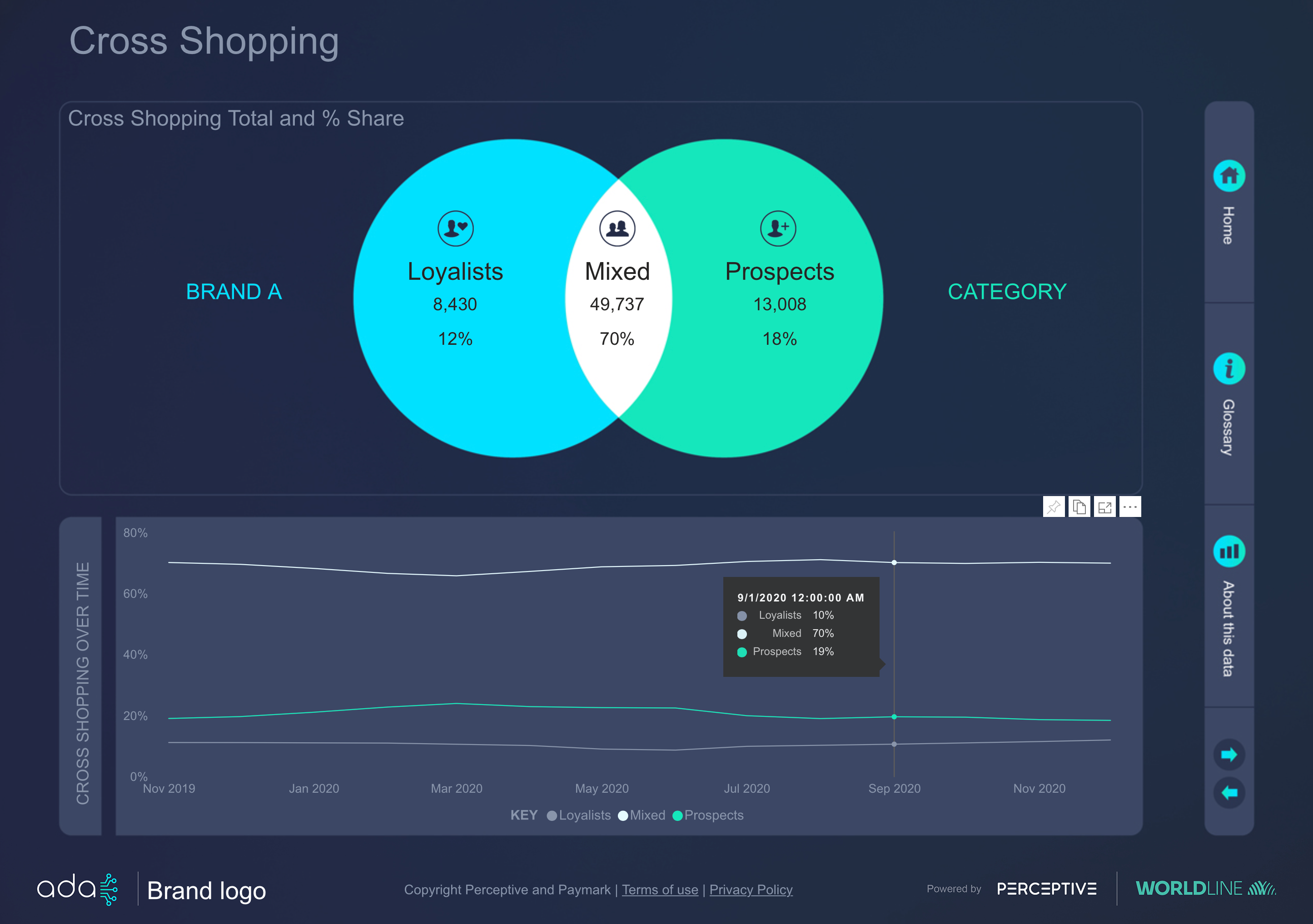 In all, transactional data offers reams of possibilities for furthering your customer understanding and providing an extra layer of brand health insights for your business.
If you're interested in learning more about Ada or seeing a demo, get in touch.