Undergoing a complete brand health check is like any other health check you would undertake; much like when you go to the doctors and have to complete several tests to determine where it hurts, or why.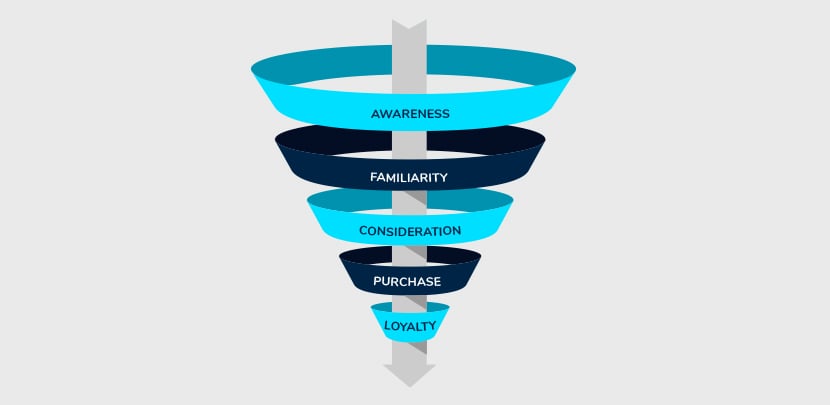 There are usually multiple layers to examine, and it requires a thorough examination of all elements before you can get down to the true problem. This is a top-line overview of how to complete a health check and analyse brand perception using the conversion funnel.
What is a brand funnel?
One of the more traditional conversion funnels (also referred to as the "purchase funnel") with the following layers—starting top to bottom, ordered by size:
Awareness
Familiarity
Consideration
Purchase
Loyalty.
After the purchase, your customers can either choose to be loyal to the brand or disloyal, depending on their customer experience.

Read more: How to track, measure and improve your brand health, our free online guide.
Analysing your brand funnel
Awareness: Awareness is the first stage of the funnel. Potential customers are drawn into this stage through marketing campaigns, consumer-led research and discovery. What is your target audience's level of awareness and how do they become aware of your brand? When assessing this stage of the funnel it is important to measure both prompted and unprompted awareness.
Familiarity: At this stage, the potential customer has decided they want or need a product/service similar to yours. They are likely to start reading reviews, learning the features, making comparisons and asking for opinions. Through this process they'll start developing an affinity and base level of trust for related brands. How do they feel about yours?
Consideration: At this stage the customer has developed a more specific desire to explore your brand. This presents an opportunity for brands to strengthen their relationship with potential customers by clearly differentiating themselves. If potential customers are considering 3-5 brands at this stage, how different and unique is yours?
Purchase: How can your customers go about purchasing your product or service? Are you making it as easy as possible for them? Can they provide feedback so you know what to improve for next time? If they have problems with their purchase, is it easy for them to connect with your customer service?
Loyalty: How can you ensure they remain loyal to your brand? Are you sending them loyalty offers? Will you be targeting them with cross-sell or upsell offers so that you optimise your revenue opportunities without losing them as customers?
Your brand funnel allows you to see potential indicators of your future performance, how you're tracking, and where you can improve. Every brand will have a unique brand funnel, with specific strengths and weaknesses.


Brand wealth versus brand health
It's crucial that you understand the details of your brand funnel: what's causing your strengths, weakness and any changes that your brand has gone through, especially when looking at the year before or what your gaps are compared to your competitors. At the very least, you should be tracking and measuring your Awareness, Purchase and Loyalty rates.
Sales, shares and profits are the evident tangibles of how well your brand is performing. They are the end result and they are easy enough to measure. We can refer to these as "brand wealth". But there's more to a brand than sales figures alone, and they're the output of the "input" of the brand funnel so to speak.
When you look at brand health, you need to look at how well the brand funnel performs, the voice-of-customer, your customer satisfaction scores and any major changes in market trends. Consider these intangible brand health metrics next to your tangible brand wealth metrics. The brand funnel is a great tool to ascertain the true health of the brand before these measures even show up in sales reports.
To learn more about how to measure and improve your brand health, check out our eBook Brand Health Check.