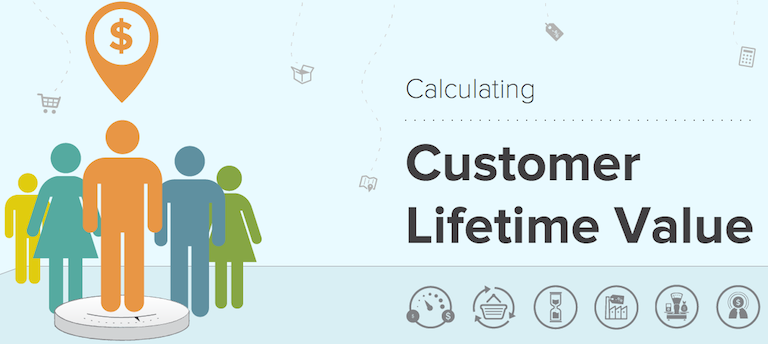 Customer lifetime value is the net value of the expected revenue of the average customer for your company – their 'lifetime' with your company. Each customer has the potential for repeat business and average spending level per transaction. Chances are that the customer will be likely to remain your customer for an average length of time and will potentially refer other business to you as well.
The equation would look a little like this:
Customer acquisition cost + contribution to your profit – customer retention cost
= customer lifetime value
You can calculate the lifetime value of a customer by knowing:
The average length of time a customer stays with you.
The average net profit from sales you make over that time.
There are other variables that should be added in such as advertising costs and sign-up fees.
Say you run a mobile phone company. The average customer spends 4 years with that phone company and spends an average of $60 a month on their phone contract 4 years x $60 = $2,880.
Then say the average customer refers 0.2 new customers to your business through positive word-of-mouth $2,880 x 0.2 = $576.
Add those two figures together and you can calculate their lifetime value $2880 + $576 = $3,456.
Not knowing the true value of a customer is usually what results in claims about there not being enough budget for a given project or new hire. Once you understand the lifetime value of a customer, these kinds of decisions are far easier to make—and no longer based on assumptions.
It also gives you a clear indicator of how much you stand to lose if you fail to keep 'wowing' the customer at each interaction.
What this means is if your phone company cuts off a customer, upsetting them in the process, you could be losing around $3,400 from that customer. Combine that figure with the cost of advertising to obtain a new customer and it becomes clear—customers are very expensive to replace. We know that the most profitable customers are the ones with highest lifetime value. Once neglected, this group of customers will make a serious dent in your bottom line if they leave.
So listen to them, build a relationship that goes beyond the transactional and watch your lifetime value grow.
Want to learn the ins and outs of retaining your customers? Download our free customer retention playbook!