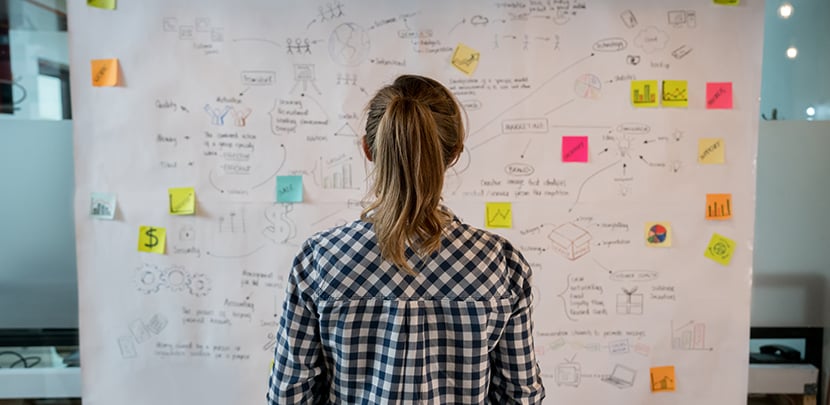 Adopting design thinking (DT) strategies can help you innovate in your business and processes, develop new products and develop a positive culture, where customers are always at the forefront.
This will boost not only your customer retention, but also your company culture, which in turn will make you a more profitable business all around.
---
What is design thinking?
DT is a problem-solving methodology that businesses can use to create and improve product and service experiences. When used effectively, it can become the foundation for driving a brand strategy or business forward. It is especially useful when businesses want to innovate as, more often than not, they must shift their mindset to solve their challenges. This leads to more agile strategies.
DT can be applied to products, services, and processes—basically anything that needs to be improved. And in today's fast-paced, technology-driven world, what doesn't need improvements?
Design can apply to any strategy or innovation initiatives where we seek to improve the status quo. Herbert Simon defines "design" as the "transformation of existing conditions into preferred ones".
In essence, it's a repeatable process that uses creative techniques to yield results—often results that surpass expectations. For this reason alone, it's an attractive, dynamic and crucial methodology for businesses to embrace today.
Related content: Identify the moments of truth in your customer journey
---
How is it different?
Empathy for customers and their needs is the heart of the DT methodology. From there it relies on creativity and open, inclusive brainstorming to generate ideas to solve a particular customer problem (or challenge). The context of the customer—i.e. who they are, relevant likes and interests, and, again, their needs—are then applied to those ideas to find the most appropriate solution.
Building up, not tearing down
Compared to critical thinking, which focuses on analysing and breaking down ideas, design thinking is about building up ideas. It's about building on what has come before and creating an improved product or service.
The DT method can serve to foster a customer-centric culture that finds innovative ways to solve problems. Most of all, it's a culture where everyone feels included. DT environments are judgement-free zones. All ideas are valid, no matter how far out of left field they are. Everyone, from your interns to your marketers to your engineers, is encouraged to participate, even if they don't think they're creatively minded.
---

1. Empath
---
Want to know more? Download our free eBook and learn how design thinking can improve the customer experience and organisational culture in your business.