The pandemic has fundamentally changed how we work. With remote and hybrid work going from a stop-gap measure to the preferred working model to the new expectation, managers and business leaders are having to rapidly evolve their workplace practices to accommodate this radical shift.
Hybrid work brings about numerous benefits, from reducing employee commuting times and cost to improving work-life balance, family time, and providing flexibility about when and where employees work. Moreover, an AUT study that has been tracking the New Zealand workforce since February 2020 recently found that hybrid employees are not only the happiest but also the most innovative. This new way of working has become so popular that a global study found 35 per cent of employees would be more likely to search for a new job if they were required to go back to the office full-time.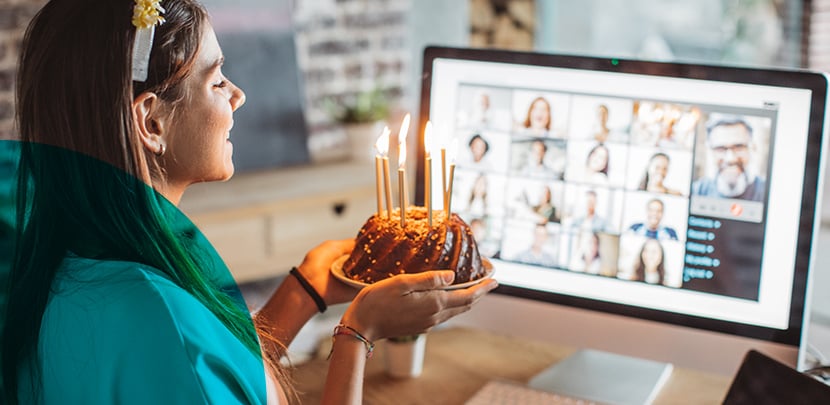 Free guide: The 10 Pillars Of Employee Experience
The problems with the hybrid workplace model
Hybrid work is not without its downsides. Some employees may find the constant shift between work and home emotionally draining, more than if they worked permanently onsite or fully offsite. There is also the problem of being less visible in the office, which has seen professional networks shrink by nearly 16 per cent over the course of the pandemic. It has become harder, particularly for our younger Gen Z workers, to build strong working relationships. This can have knock-on effects on an employee's career and ability to rise through the ranks with research showing that people who are in the office more are more likely to be promoted.
Hybrid and remote working has also highlighted the digital divide. Employees who don't have access to the right technology to work effectively from home are at a disadvantage. From not having a good home set up or strong enough internet connection to requiring specialised equipment to do their job or simply having less digital skills can impact your staff's productivity. A study by Microsoft found that even after a year of working from home, 42 per cent of employees lacked essential office supplies at home, and one in 10 didn't have an adequate internet connection to do their job.
There's also the problem of digital overload. With employees struggling to find a balance between working anytime versus working all the time and hybrid and remote work has led to steep increases in digital communications. From February 2020 to February 2021 Microsoft reported that the number of Teams calls had more than doubled and the average meeting time had increased from 35 to 45 minutes. The number of Teams messages had also increased and more employees were sending messages outside standard working hours. With this constant stream of communication, remote and hybrid employees risk becoming overwhelmed and drifting into 'working all the time' mode, which can lead to stress, fatigue, and burnout.
With these issues in mind, it is important for business leaders and managers to consider how they can set up the workplace to ensure they are giving the right levels of support to their remote, hybrid, and in-office staff.
Read more: Are you killing your employees' motivation?
How managers and business leaders can find the right balance
Until now, most workplaces and company cultures focused on the in-office experience. However, Covid has forever changed that, leaving businesses with the challenge of adapting and evolving their practices to meet this new hybrid normal.
In a report on the future of work, Accenture noted that stress wasn't the differentiator between productive and non-productive people in a hybrid and remote work model. The differentiator was resources—both personal and organisational—employees were able to draw upon to remain productive. These included personal skills and outlook, such as high digital skills, an interest in learning, strong working relationships, and a sense that their work enhances other aspects of their lives and positively supports their mental health. Organisational support, such as job autonomy, supportive leadership and mental health support, were also identified as crucial as well as organisational set up with the report finding that businesses that were agile, digitally mature, supported vaccination and possessed health policies had staff who could be productive anywhere.
With this in mind, here are three simple ways you can support your staff and promote productivity in a hybrid working environment:
Define hybrid in your business
A hybrid working model could be anything from 25 per cent remote to 75 per cent remote or more. By defining the parameters of what you'll accept in a hybrid work environment, you are setting clear expectations for your staff rather than leaving them to guess what is deemed appropriate. Rather than dictating what days your staff should be in the office, give your employees the flexibility to set their own working from home days to better fit work around other aspects of their life.
Remind others that your work hours may differ
Reminding people that your work hours may differ from theirs sends the message to employees that they don't need to work all the time, and that they don't need to respond to your emails or messages outside their working hours. Putting this message in your email signature and reiterating it in meetings is a good way to do this.
Schedule regular non work-related catch-ups
Research shows that when employees feel connected and part of the team they are more engaged and productive. With in-person contact reduced, put time aside every week to banter with your team on non-work related issues. This will help facilitate stronger working relationships and break down team silos. This is particularly important for younger generations who are still early in their careers and don't have large professional networks. You can choose to make the format casual or set topics for people to discuss, allowing employees to participate and share as much as they are comfortable.
Learn the 10 critical elements that attract and retain talent, build a positive workplace culture, and keep your employees engaged in our free guide: The 10 Pillars Of Employee Experience.