Marketing automation takes away the time-consuming and repetitive tasks such as emails, social media and website management. It helps marketers reach audiences at the right time; allows them to transcend time zones and working hours and, on the whole, makes their marketing more efficient. Of course, it also eliminates the stress of accidentally forgetting to send a follow-up email to a lead too.
In case you're not convinced, here are a few more reasons why marketing automation is a must for any savvy business.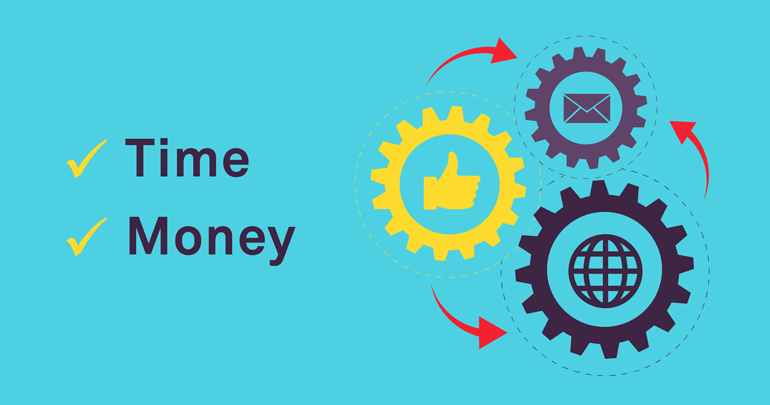 ---
Reclaim your emails
According to Autopilot, over 60 per cent of marketers use mass email techniques to contact customers—but only 13 per cent are using automation software. That means 87 per cent of marketers are manually setting up each and every email blast, selecting an e-list and sending it off.
With marketing automation, you can set up prearranged workflows that trigger communications after a certain action on the part of the customer or after a certain number of days. It means less time on emails, and more time on cultivating great content and delighting customers.
---
Save time with scheduling
If you think that using marketing automation software would be a time suck, think again. Nearly all marketing automation platforms have social and client appointment scheduling capabilities, and with them you can quickly reclaim your time.
According to growth hackers Ehsan Jahandarpour and Brian Downard businesses that automate their social media schedules can save six hours per week, while 80 per cent of your usual scheduling time can be saved through auto-scheduling client reservations and appointments.
---
Improved lead nurturing
Businesses that use automation software are able to generate twice the number of leads than those who use blast email software. Moreover, their communications are also twice as effective.
Why? It's because marketing automation allows marketing and sales teams to collaborate. Rather than ping-ponging "warm" and "wasn't-actually-warm" leads between them, automation software uses a lead scoring system that ranks how far a lead has been nurtured and how receptive they will be to a sales call.
---
Dynamic, long-reaching content
One of the biggest bonuses of marketing automation is the ability to generate and distribute personalised and dynamic content based on a buyer's interactions with your businesses website, social accounts and emails. What's more, businesses that use this kind of dynamic content see, on average, a 20 per cent increase in sales.
Added into the mix is the fact that automation also serves to amplify your content and brand messaging. According to Ehsan Jahandarpour and Brian Downard, businesses that automated their outreach and follow up emails saw a 250 per cent increase in their reply rate.
---
Delight customers
No matter whether you're a B2B or B2C business, delighting customers is the key to growth and profitability. Marketing automation serves as another means to do that. Being able to upsell during your customers' online purchase, or reach out with offers to old customers, is ideal way to delight customers and build their loyalty to your business.
And once you've got those loyal followers? With 49 per cent of consumers happy to switch brands in exchange for an exclusive offer, it's important to reward loyalty. Marketing automation can help you manage your loyalty programme mail-outs and special offers to keep customers coming back time and time again.
---
Revenue growth
With marketing automation giving a boost to productivity, efficiency, lead nurturing, content and customer satisfaction, it comes as no surprise that businesses often experience revenue growth as a result. In fact, 78 per cent of marketers say that automation increases revenue and 75 per cent of brands that implement automation see a return on investment in under 12 months.
When combined with good customer insights, automating your marketing communications is one of the best ways to advertise on the internet. But don't forget, keep it real. It might be automated, but it shouldn't sound like a robot.
---
Learn how to build rapport with the modern buyer and grow your sales leads with our free ebook, Discover your ideal customers.