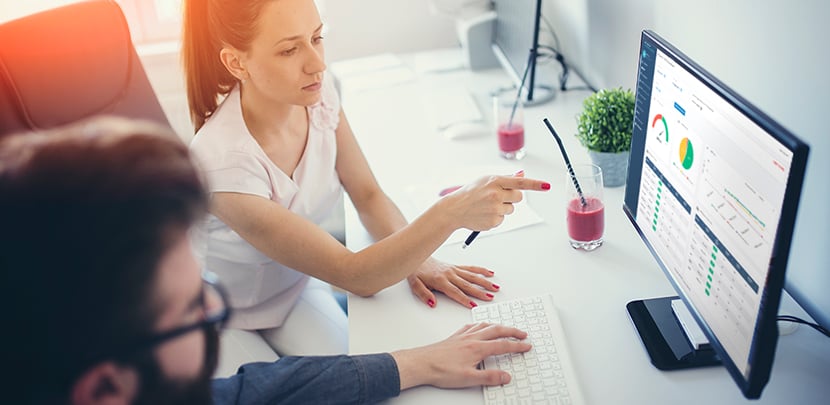 When your company is losing valuable customers, you're losing capital and, potentially, damaging your reputation too. You need to know what you're doing wrong—and rectify it. Easier said than done.
All too often, we see people making the same mistakes over and over with their customer retention strategies. We've compiled the three worst offenders here. Check your own performance against these common bugbears, and ensure that you aren't hobbling yourself in the battle to retain your customers.
Read more: The Customer Retention Strategies Playbook
1. Ignoring your customer analytics (or don't have any at all)
Having access to customer feedback data or analytics software but not using it, or worse, not having it at all, is one of the biggest customer retention mistakes you can make. By collating up-to-date customer feedback and analysing it (changing that data into useful information), you are well on your way towards understand what your customer base really wants and needs from your company.
Every business generates data of some kind, even if it as simple as transaction data. But if you want to dig deep into the kinds of insights you really need to succeed, you'll need something more advanced. Your Net Promoter Score, for example, gives you an easy-to-understand number for the overall level of your customer feedback. But delve into the more qualitative side of the customer's ideas, and you may uncover some insights that could revolutionise your strategic direction.
Don't ignore your customer analytics.
2. Thinking that you know—when you don't
On a similar note, are you interpreting your analytics correctly? According to data by Bain and Co, 80 per cent of companies surveyed said that they offer excellent customer service—but only 8 per cent of their customers agreed with them. Reality and strategy don't seem to be meeting in the middle.
Another study, from IBM, demonstrates just how wrong businesses can be about what customers are thinking. In the survey, businesses were asked about why they thought that customers followed them on social media sites. A large majority ranked discounts and purchases among the least important reasons. But when the customers themselves were surveyed, they listed discounts and purchases as the major reasons for following a company on a social site.
Reality and strategy don't seem to be meeting in the middle.
To avoid misunderstanding customers, you'll want to focus more on actual customer behavior, not on what you predict a certain customer is going to do. Check your web analytics regularly and use them to build your marketing strategies.
3. Being reactive only
What we mean by this is not being proactive enough to engage with your customers to understand what issues they're facing, and doing your best to assist them.
Not listening to customers or engaging on social channels, being too afraid to ask what's wrong (and doing something about it), or simply not having a continuous relationship with your customers, can mean losing out on valuable business.
Summary
Always remember that having customers—especially loyal ones—is not a given these days. Competition is fierce and working hard to retain the customers you have is the best strategy of all.
If you want to learn more about customer retention strategies, check out our free eBook below: