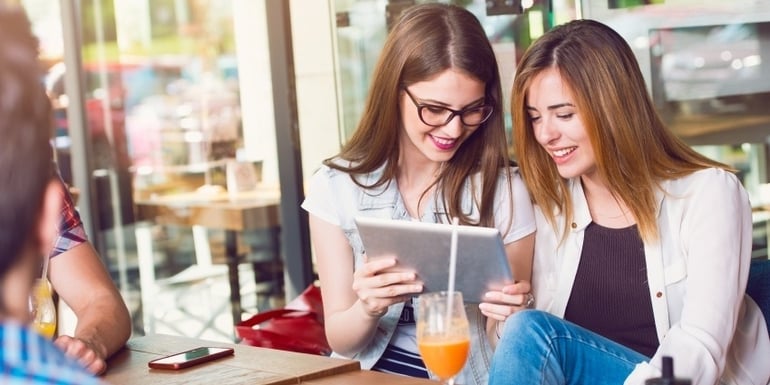 Spending a lot of time and money on outbound marketing efforts can be a waste of time, and might not end up building the brand credibility you're after. We share the biggest benefits of inbound marketing, that your company can take advantage of.
---
1) More quality leads
Qualified leads: people that are looking for what you're offering, to learn more about your offering or perhaps they're even ready to speak to you about your product or services. They are the lifeblood of any business, and inbound marketing gives you a direct IV line full of them.
Don't believe us? According to HubSpot, 54 per cent more leads are generated by inbound tactics than traditional paid marketing.1 And even better, 451 per cent is the average increase in qualified leads, experienced by companies that use marketing automation for lead nurturing.
Related content: How to get more relevant leads for your business through inbound, CX and research
---
2) Relevant content at the right time
Through inbound marketing, your prospects are searching for, finding and consuming your content by choice, and you're meeting them with the type of content they desire—not just throwing blanket ads at them, interrupting their day and irritating them.
Why is this good? 80 per cent of business decision makers prefer to get company information in a series of articles as opposed to an advertisement. If you thought inbound marketing doesn't suit B2B marketing, you're definitely mistaken.3
Content marketing is all about good quality, relevant content, that is when it is at its best.
---
3) Build trust, credibility and authenticity
Compared to traditional outbound marketing, which relies on cold calls or advertisements, inbound marketing strategies are far less intrusive and rely more on the user to take the initiative.
Inbound attracts customers who are already actively looking for products like yours. By giving them what they are already looking for, they are that much more likely to seek your business, rather than your competitors.
Inbound builds long-term relationships, because it's inherently based on mutual communication—people seek you out through search or social, you reply to them either directly, or by producing content they are looking for.
Due to inbound marketing being fully content driven, it allows you to produce content that builds credibility for your company, both within your industry and for your customers. It sends the message to your prospects that your company is experienced and able to help them.
Related content: 5 simple ways to upgrade your inbound marketing lead generation
---
4) Cost effective and ROI secure
Inbound is cost effective, since setting up a website today can be relatively cheap and adding a blog to an existing website is free.
Consider a savings of 62 per cent as the average savings that an inbound marketing business experiences compared to their traditional marketing counterparts.4 For example, 44 per cent of direct mail is never opened, which frankly is a waste of time, postage and paper.5
It's more expensive to invest in paid channels that don't deliver than it is to invest in inbound strategies. Getting on the inbound bandwagon is good for your bottom line and your brand.
---
Want to learn more about how to maximise your lead generation with inbound marketing by targeting the right audience? Download our free ebook.
1 HubSpot, The state of Inbound, 2016
2 Annuitas Group
3 Content Marketing Institute
4 CMO
5 ibid.