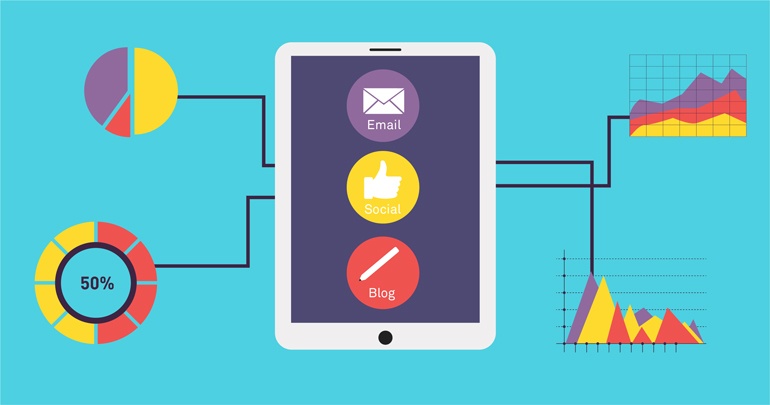 Do you know the return on investment for your marketing? As far as traditional media goes, it can be tough to track. There is no way of knowing exactly how many people read your print advert, then visited your website and became a customer. With digital marketing, particularly inbound marketing, you can.
The problem many businesses face is knowing which metrics to tracked measured—and how.
---
What KPIs should we measure for inbound ROI?
As a general rule, the three key metrics to measure over the course of an inbound marketing campaign are:
Visits
Leads generated
Sales conversions
Once you've got these three measures set up and tracking, you can then start drilling down into each individual platform and content type, such as blogs, emails and social media.
Many content management systems (CMS) provide users with a means to track website visits, but not all provide insights into how many leads and conversions your digital campaign is generating. It's where customer relationship management (CRM) software, such as HubSpot, Zendesk and Autopilot, come into their own.
Some, like HubSpot, provide both CMS and CRM capabilities together in a neat bundle, while other CRM software is built to plugin to whatever CMS a business decides to use. At the end of the day, it doesn't matter which option you go with, just that your leads and conversations are being tracked.
---
Email
With almost three-quarters of companies ranking email as "excellent" or "good" when it comes to ROI, email marketing is an effective way to reach customers. In fact, in 2016 it even outperformed SEO to become the most effective channel in terms of ROI. But what email measures should a business use to determine performance?
Here are the most important:
Click-through rate: the number of people who linked on a link in the body of your email. A good click-through rate is usually around 2 per cent, depending on the industry and business.
Unsubscribes: HubSpot tells us that 78 per cent of consumers have unsubscribed from emails because of too many emails. If you're getting a lot of unsubscribes, it could be an indication of this, or that the time of day you're sending your emails isn't suitable.
Alarmingly, only 15 per cent of companies regularly review the click-through rates of their emails. Meanwhile, only 23 per cent have integrated their website with their emails to track what happens after a click. These email metrics are hugely useful, not only for determining email ROI, but also for improving performance and engagement. Ignore them and you could be missing out!
Related content: Free worksheet to develop your buyer personas
---
Social
According to HubSpot, 60 per cent of small business owners are not able to track ROI from their social media. There are a range of tools that can help you do this, but the trick is finding those that focus on the marketing metrics that matter.
Here are five social metrics we recommend you keep track of:
Click-through combined with bounce rate: rather than just looking solely at click-throughs, combine it with your bounce rate. This can help you see how social compares to your other channels.
Share of voice: tracking the number of mentions you have compared to the rest of your competition (represented as a percentage) is a useful way to track brand awareness for both you and your competitors.
Conversation rate: this is the number of comments you get on a post divided by your number of followers. It's particularly useful to track how engaged your followers are with your brand. And more engaged followers means better leads and higher conversions.
Amplification rate: again, instead of tracking shares, track the ratio of shares per post to the number of followers you have. To do this, combine the number of shares over a given period and divide it by your number of followers.
Applause rate: it's the number of likes per post over your number of followers and can help you measure engagement, and whether your followers like your posts.
---
Blog
Along with lead generation (or in the case of blogs, subscribers) and conversions, your blog metrics should include most of the metrics already covered under email and social. However, blogs do have a few unique key metrics that can help determine their ROI. These are:
First-touch: what blogs did your leads or conversions read first? Knowing this can help you understand what blogs are piquing people's interest.
Last-touch: what blogs do visitors read last before becoming a lead or conversion? Measuring last-touch can help you determine which blogs are turning visitors into subscribers or customers.
Lead source breakdown: where are your blog subscribers coming from? Facebook, Twitter, Email? Understanding this means you can better target the channels that draw the most number of leads to your content.
According to HubSpot, marketers who calculate ROI are 1.6 times more likely to receive higher budgets, what's more, the majority of those say that their marketing strategy is effective.
Moral of the story? Measuring the online marketing ROI is more than a means to justify your spending or to gauge performance. Its in-depth insights allow marketers to identify the exact content and channels that resonate best with customers, which leads to even more effective marketing.
---
Learn how to build rapport with the modern buyer and grow your sales leads with our free ebook, Understanding Your Audience.