After the conclusion of a survey, you'll normally have a huge number of comments, which can be daunting to analyse.
You could go through them one-by-one and cross-reference the comments against user data—but this takes a huge amount of time and won't always yield the results that you need.
Instead, many Net Promoter Score users analyse theme clouds: how often certain words are used in comments. The more frequent the word, the further forward it is in your respondents' minds.
This data can be analysed in a number of ways, including but not limited to:
What the overarching positives and negatives of your customer experience program are.
How often certain words are used in conjunction with others (providing context).
What your most valuable customer segments are saying about your brand.
What your most at risk customer segments are saying about your brand.
What recurring problems are plaguing multiple customer segments and/or surveys.
What problems are specific to only certain customer segments.
These are just a few examples. Theme clouds are versatile in that they can give a broad overview of what your respondents are saying, or can help you dig deep and find specific issues and solutions. In either case, they can quickly and easily inform your future strategy—assuming you use the right analysis tools.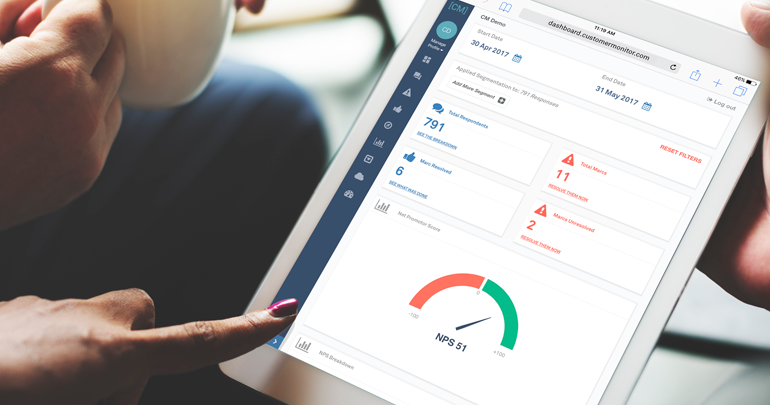 Read more: Grow your business with NPS [Free Guide]
---
Analysis tools available within Customer Monitor
While some NPS users simply use spreadsheet tools like Google Sheets or Microsoft Excel to manage and analyse their commentary data, Customer Monitor users have access to more specialised and user friendly tools that save time and improve accuracy.
In Customer Monitor, all of the comments are grouped and theme clouds are provided, split by score. Customer segments can be applied for further analysis, and a deep dive into each separate theme cloud can provide a wealth of data on who is saying what, how, and why.
---
What about further analysis?
For most, this analysis tool can give you everything you need to inform your customer experience strategy. However, you can do further personal analysis or share your findings by downloading the data as a .csv file.
You can find out more about this here.
---
Summary
Customer comments hold a great deal of value for those who can gather and analyse it correctly. The key to this is efficiency: don't try and go through each and every individual comment; instead, utilise theme clouds for a faster, deeper understanding of what your customers want as a whole.
---
Learning what customers really think of your business doesn't have to be hard or time consuming. Request a free demo of Customer Monitor and see what it could do for your business!