Any enterprise that intends to become a leader in their industry has to ensure their metrics are better than their peers—and your Net Promoter Score (NPS) is possibly the most important measure of all in which to excel. But how good is good enough?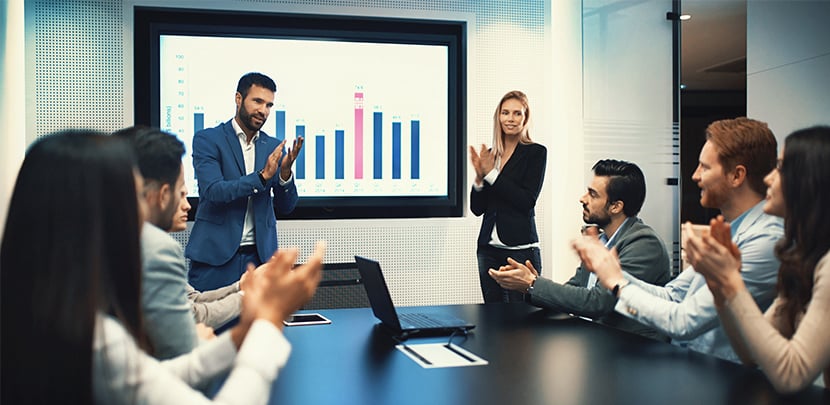 Free NPS industry benchmark reports for New Zealand and Australia.
---
What is a good NPS?
Any NPS score above 0 is "good". It means that your audience is more loyal than not. Anything above 20 is considered "favourable". Above 50 is excellent, and above 80 is world class.
Bain & Co (inventor of the NPS system) suggests a score of 50 to 80 is typically considered outstanding.
Well-known, high-growth companies from the US such as Amazon, Harley-Davidson, Zappos, Costco and Dell, generally attain NPS ratings of 50–80.
As a general rule in New Zealand and Australia, you should aim for an average NPS of 30. However, this will depend on your industry. You can find specific data on your industry with our free benchmarks.
We also provide specific advice on improving NPS in the hotel, insurance and telecommunications industries.
Related content: The top 3 Net Promoter Score industries in Australia and New Zealand.
---
What if I have a low or negative NPS?
If you have a low or even a negative NPS, it's time for change—but most businesses fail to realise the changes they need to increase their score, and thus their customer experience.
According to Bain & Co, a Net Promoter Score of 5 to 10 is the average for most companies—they have almost as many unhappy customers as happy. It's difficult to grow a business if there's a promoter/detractor coin flip every time you engage a new customer.
Tomas Dickson, Senior Account Manager at Perceptive, has some insight into how business can improve their chances of a better NPS:
"In our experience, it is often the most simple things letting a business down. Pick up the phone faster, reduce wait times, and, in general, just communicate better," he explains.
"Don't make your customers come to you. Go to them—this will massively improve your customer satisfaction and, invariably, your NPS too."
Keep in mind, however, that some industries have a low or even negative average Net Promoter Scores.
This doesn't mean you can simply sit on a low or negative NPS. Rather, this should be seen as a great opportunity.
If, for example, you were a property management company, you should know that the average NPS score for your industry is -3. If you can have just one more promoter than you do detractors, you are already beating the average.
Being in an industry with a low NPS isn't an excuse to let your standards slip. It's an opportunity to get ahead of your peers and differentiate yourself in quality.
Related content: How to use the Net Promoter Score system to inform your customer journey map
---
How can I improve my NPS?
Saying to avoid a low NPS is one thing, achieving it is another. Sometimes your customer experience is lacking, but sometimes it's a problem with the technical side of your surveys: low response rates and the like. If you're stuck on how to boost your score, try reading one of the guides we've provided here:
Generally speaking, improving your NPS centres on one thing: providing a good experience for your customers, keeping them at the centre of your business, and should you fail at some point, make sure you react immediately to rectify the situation.
---
How to use NPS to be more competitive
NPS allows a company to understand their place in their industry as a whole, rather than just its own reputation in a vacuum—enabling it to see how they can leverage their own unique position to outclass the competition.
"You can identify the needs and, often, wants of your customers with a single question in the NPS surveys," Tomas explains.
"Once you have identified the one major improvement you can make as a business right now, you instantly gain insight into what is going to provide real ROI in your business."
A good NPS score is more than just a number. It's a comparison to your peers, it's an indicator of your current success, and it's a way to gain insight into where your business needs to go next. Don't be too distracted by the pure metrics; the NPS system can provide so much more.
Related content: Increase your Net Promoter Score℠ survey response rate [Checklist]
---
How does your NPS measure up against your industry average? Download our free benchmark reports for New Zealand and Australia to find out!